D6 Day of Action Live Updates
4:22am Update:
Occupy Our Homes Atlanta has posted a video and update of their action today:
On December 6th members of Occupy Our Homes ATL took from a bank something they've been stealing from people for decades: a home. In Atlanta's Pittsburgh neighborhood, which stands at least 50% vacant, a displaced family moved themselves into a bank-owned home. The desired outcome is that M&T Bank give the home to Higher Ground Empowerment Center's non-profit, and that the home then be taken off the market and be put into community control. (Higher Ground Empowerment Center is a church that activists saved from foreclosure and displacement in January of 2012)
2:08am Update:
Here's a more detailed update from California about the successful eviction defense this morning of the Ponce family home by Occupy Sacramento, Occupy Woodland, Occupy Stockton, and Occupy Davis:
Occupy Sacramento, Occupy Woodland, Occupy Stockton, Occupy Davis passed the first hurdle (day 1) of defending the Ponce family from their D6 scheduled eviction. The sheriff did not show up! We're not out of the woods yet, they still have 2 days to attempt to lock out the Ponces.

The Ponces qualified for a HAMP modification in 2011; they made all their payments during the temp mod, and were approved for a permanent mod. Wells Fargo made a mistake during approval of the permanent mod paperwork–and instead of fixing the mistake, they insisted that the Ponces reapply! They were assured that they were in no danger of losing their home. Unfortunately, Wells Fargo was at the same time foreclosing on them (classic dual tracking). Ultimately, their house was sold to an investment firm before the second HAMP could be finalized.

We believe that Wells Fargo should honor its agreement to modify their loan–especially since recent changes to Keep Your Home California have made it easier for the Ponces to get a prinicipal reduction and affordable payments.
12:24am Update:
On a day where the Michigan state legislature waged a major assault on the 99% and workers' rights, we have some good news from Detroit, where a coalition of housing groups including Moratorium NOW! and Detroit Eviction Defense won a victory for the Cullors family.
After blocking the eviction, filling the dumpster with leaf bags, marching on the bank, and packing the courtroom, we have persuaded Fannie Mae to withdraw its eviction order against the Cullors family and sell the mortgage back to Bank of America. BOA will modify the mortgage to keep the Cullors in their home. We can't know at this point what the modification will amount to, and we'll pressure the bank to reduce principal. But even with these pending issues, it's great news.
11:54pm Update:
Occupy Homes MN took a home in South Minneapolis! They have a long post up explaining the day's actions, but here's an excerpt of how the community gave the home to retired veteran John Vinje, who was made homeless by foreclosure:
200 community members successfully took over a vacant home in south Minneapolis Thursday night for a veteran made homeless by foreclosure, demanding that the house be turned over to community control through a nonprofit, as the Occupy Homes movement marked its first birthday. Internationally renowned hip-hop artists Brother Ali and Chuck D of Public Enemy led the anniversary celebration.

…

Homelessness in Hennepin County is at a six-year-high, a near-crisis situation, and one in four people experiencing homelessness is a veteran. Nationwide, there are 3.5 million homeless people–and nearly 19 million vacant homes. "Why not put homeless people, or people who have gone through foreclosure like us, into these vacant homes?" asked John Vinje. "At least they've got somewhere safe and warm to live."

Before he performed inside Bobby's house, Brother Ali, who made headlines in June for his arrest defending the Cruz house, spoke movingly about the time he and his son spent homeless. "Anyone who's lived in a house that the police have smashed through, where someone comes into your house with a gun, you know that traumatizes you for life. I still have to sleep away from the door when I stay in a hotel."

The community then marched to a nearby home made vacant by the foreclosure crisis, where John Vinje told the story of how US Bank and Freddie Mac foreclosed on and then evicted him rather than modify his loan–in spite of their programs to help veterans. "Because of US Bank and Freddie Mac, my family is now split up in three different parts of the metro area," he said. "It wasn't my fault. It wasn't your fault. It was their fault. This is not the country that I fought for."

50 people were still in the house as of 9 pm. "Whose house?" they chanted. "Our house!"
11:46pm Update:
From Philadelphia, where the community groups PhARE and PUP took on Wells Fargo and got a meeting for a homeowner in crisis:
At noon PhARE was joined with PUP and a local homeowner to demand answers for Wells Fargo's destructive banking and mortgage servicing policies.

Meet John: a small construction business owner, father and homeowner struggling with a Wells Fargo mortgage over the last three years. Today John got a chance to meet face to face with a Wells Fargo rep and demand real answers.

The power of numbers got John an appointment and contact information for a mortgage servicing agent at Wells Fargo. But that's not enough. As the governator said best, we'll be back. If 5 people can get a meeting, imagine what 20 will yield.
6:24pm Update:
Possibly my favorite sign of the day, seen in Los Angeles at a protest with Occupy Fights Foreclosures and ACCE: "The time has come. The banks will fall. Stay tuned."
6:16pm Update:
Here's a live stream recorded of the action at the Castle Stawaiski Law firm in Denver by Occupy Denver and the Colorado Foreclosure Resistance Coalition. Great photo from the actions in Denver:
6:10pm Update:
Housing activists and MORE members in St. Louis protested at Wells Fargo. Here's an update from the action:
"We got into a Wells Fargo lobby in St. Louis… the exact location is actually Missouri's financial capital. We executed a "people's foreclosure" and then started auctioning off their stuff to the highest bidder."
5:27pm Update:
Over 60 activists turned out in San Francisco to protest at Wells Fargo, occupying a branch in the Bayview district with ACCE and the Home Defenders League. A detailed account of the action is up on Occupy the Auctions' site, along with lots of video.
5:18pm Update:
In Chicago, activists are inside with Pat Hill with a big banner for her court date to keep her home.
3:58pm Update:
Occupy Our Homes Atlanta has moved a homeless family into a vacant, bank-owned home. There's one less homeless family on the streets and one less vacant home. The community is helping plant a new garden in front of the house.
2:53pm Update:
Here's a recorded live stream from Occupy Sacramento's action this morning at the Ponce residence, in Woodland, CA. Here's some background info:
Calling Wells Fargo Bank a "Grinch" trying to steal Christmas from the Ponce family (couple and 4 children), Occupy anti-foreclosure activists from Sacramento, Davis, Woodland, Stockton and Marin began the defense of the home of Alma and Heriberto Ponce, THURSDAY, 6 a.m. at 1543 Paradise Valley Drive in Woodland. Yolo County Deputies are expected to enforce the eviction.
Last May, Occupy foreclosure action teams successfully defended the Ponce Family home after the bank foreclosed, even though the had been approved for a loan modification. Wells Fargo backed off from the eviction because of the publicity.
Wells Fargo made a mistake on the final modification paperwork for the Ponces and before it could be corrected, the house was sold in foreclosure, even though the bank assured the family everything was all right because they had successfully completed the trial modification period and received the final HAMP modification. This is an example of "dual tracking", which will be illegal in California on January 1, 2013, when the Homeowner Bill of Rights takes effect.
Occupy Sacramento members have contacted Wells Fargo numerous times, suggesting a win/win/win solution which would benefit the bank and the investor who bought the house, as well as keeping the Ponces in their home. Wells Fargo refused; consequently the Ponces face eviction.
2:27 Update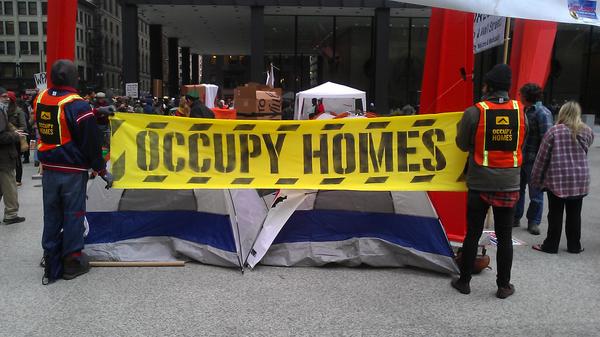 The Chicago Anti-Eviction Campaign has set up a tent city in downtown Chicago. Visuals here, here and here.
1:35pm Update
Occupy Our Homes Atlanta flash action today at Bank of America in support of Joself Freeman's fight for his home. Sign and share Joself's petition here!
11:32am Update
One year after the Pittman family started occupying their home with Occupy Our Homes Atlanta, they can claim victory in their home! Occupy Our Homes Atlanta has posted an update, including these remarks from Carmen Pittman:
"For my family, facing foreclosure was like running into a dead end, but working with Occupy for the last year showed us that somewhere down the line there is room to turn around," said Carmen Pittman, Eloise's grand daughter, and the most visible member of the family's struggle. Earlier this year, Carmen was even arrested for sitting down in a Chase Bank branch and refusing to leave until they returned the deed to her home. "Until the banks start putting people before profit, I am dedicating my life to this fight, and spreading the amazing feeling of fighting back and winning."
For more on the Pittman story, read
here
.
Original post
Happy birthday, Occupy Our Homes! Today communities around the country are turning the spotlight on the crisis that continues to hold our neighborhoods and our economy hostage as part of the Occupy Our Homes movement's national day of action to Reclaim Our Homes and Reclaim Our Future.
Actions are taking place in Atlanta, Minneapolis, Chicago, St. Louis, Denver, Baltimore, Detroit, San Francisco, Sacramento, Los Angeles, Oakland, San Diego, Richmond CA, Lake Worth FL, Greensboro NC, Mendham NJ, and other cities.
Here's a video of one homeowner, Yolanda Andrews, who is fighting back by protesting today at New Jersey Governor Chris Christie's home alongside the Home Defenders League:
We will update this post throughout the day with details from actions taking place around the country.